Baigali Designs Journal
I am often asked about my views on how to care for wool fabric, here is some help and advice. (Please note that my Baigali Designs cushions and throws contain a mix of fabrics which makes them dry clean only.)
Freshen Up
Wool is naturally breathable which allows any moisture it may pick up to dissipate. This means that is requires less cleaning than other fabrics and therefore prolongs the lifespan of the cushion or throw. So letting your cushion or throw air outside for a couple of hours on a dry day will refresh them.
Depilling
When wool fibres become loose, they form little balls or pills. Pilling is a direct result of friction (which naturally occurs with movement), so the more you use your wool, the more likely it is to pill. Good news is, pilling is easy to take care of with a depilling comb (also known as bobble remover). Just glide the comb in one direction over target areas to leave renewed yarns behind, I find this process relaxing and rewarding. This does remove wool from the fabric, so try not do it too frequently.
Dry Clean
The safest way to wash any wool textile is to have it dry cleaned, this does protect the integrity of the fabric and removes dust and dirt that has built up over time.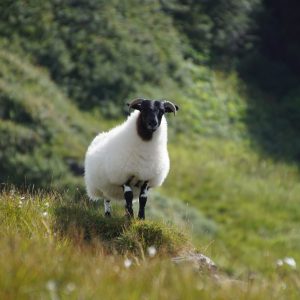 Spot Treat
If your wool is stained in one place, try spot treating with a bit of wool soap. Wet the spot, then gently work the soap in the stained area. Remove soap and dirt with a clean cloth that does not leave lint behind and leave to dry in a warm place like an airing cupboard, away from a radiator or open fire. Instead of sponges and paper towels, try a soft towel or an old clean towel. Be sure to remove all soap by dampening the cloth and repeating the process.
Hand Wash
Fill a bath with lukewarm water (30ºC or less) and add some wool soap, which is a gentle laundry detergent specially made for washing wool and delicates. Mix it in well before adding your wool to the water. Submerge your wool into the soapy water, then let it soak for at least 10 minutes. Avoid rubbing the fabric together, like you might do when you hand wash other fabrics. Friction is the key thing to avoid when caring for wool, that  will cause shrinking and bobbling. Rinse twice with clean water and dry.
Drying
This is where you need to take the most care, press out the water gently, and lay your wool flat to avoid stretching. To speed up the process, lay it on clean soft dry towels and roll your garment up like a carpet roll in order to squeeze out the excess water. Unroll and reshape if needed, lay flat to dry, ensure it is out of direct sunlight. Do not lay over a radiator as this will cause the fibres to tighten, distort and shrink.
Storage
The best way to store your cushion or throw is to fold it in a breathable container, like a cotton storage bag in a dark and dry place. Your could add one of my luxury lavender pouches before you store it to help keep moths away and give them a lovely fresh smell.
By following these tips and learning how to care for wool properly, your designer wool cushions and throws will last a lifetime, or even longer.
Lesley – January 2021