Handcrafted Designer Scottish Cushions And Throws
At the heart of 'Baigali Designs' is an emphasis on the colours of Scotland, originality of design and quality of fabric. We design and handcraft a range of beautifully designed cushions and throws in Edinburgh for you.
"Thank you for my cushion cover. I received it today and it is as gorgeous as anticipated. I fell in love with your cushions on our trip to Scotland last summer and brought one home. You have a great eye for fabrics and design. I absolutely love the thistle brocade fabric. It is special to me as a token of our wonderful family trip to Scotland and the Highlands last August."  
"I have previously bought a cushion from Baigali, so I just googled you again! I was lucky enough to come across your stall at one of the markets during the Edinburgh Fringe last year. Thank you so much for the beautiful cushion, I'm sure my friend is going to love it."
"I only went in for a cup of coffee and bought one of your cushions, the cushions are just lovely." 
"Great products, I have them on my yacht"
"I'm so pleased you've managed to get a spot at the Edinburgh Festival, I will most certainly pop by to say hello. I absolutely love my cushions. It is always marvellous when you find something different and that you absolutely love, and it makes me very happy when I see it on my sofa."
"You may not remember me, but we met you at Craithes Castle in July. I just LOVED your cushions. I would really like to buy another cushion cover (not the pillow) in similar design and size, but in colours that match the colour of my other cushions.
We are returning to Edinburgh for some christmas shopping and will be visiting the Christmas shopping fair. Could I please collect it there?"
"Dear Lesley, yesterday I bought two cushions at the fair in Edinburgh. Now being at home again I am very happy with the cushions. Yesterday I was not sure if I wanted three or two cushions. I have now decided to have another one. Do you still have the one with the venetian pompons? I do not see any cushions like this on your website. Hope to hear from you soon. If needed, I can also send you a picture of the style I bought." 
"Your cushions are stunning and now in it's new home ?. We will be in touch for more."
Five Reasons to Love Baigali Designs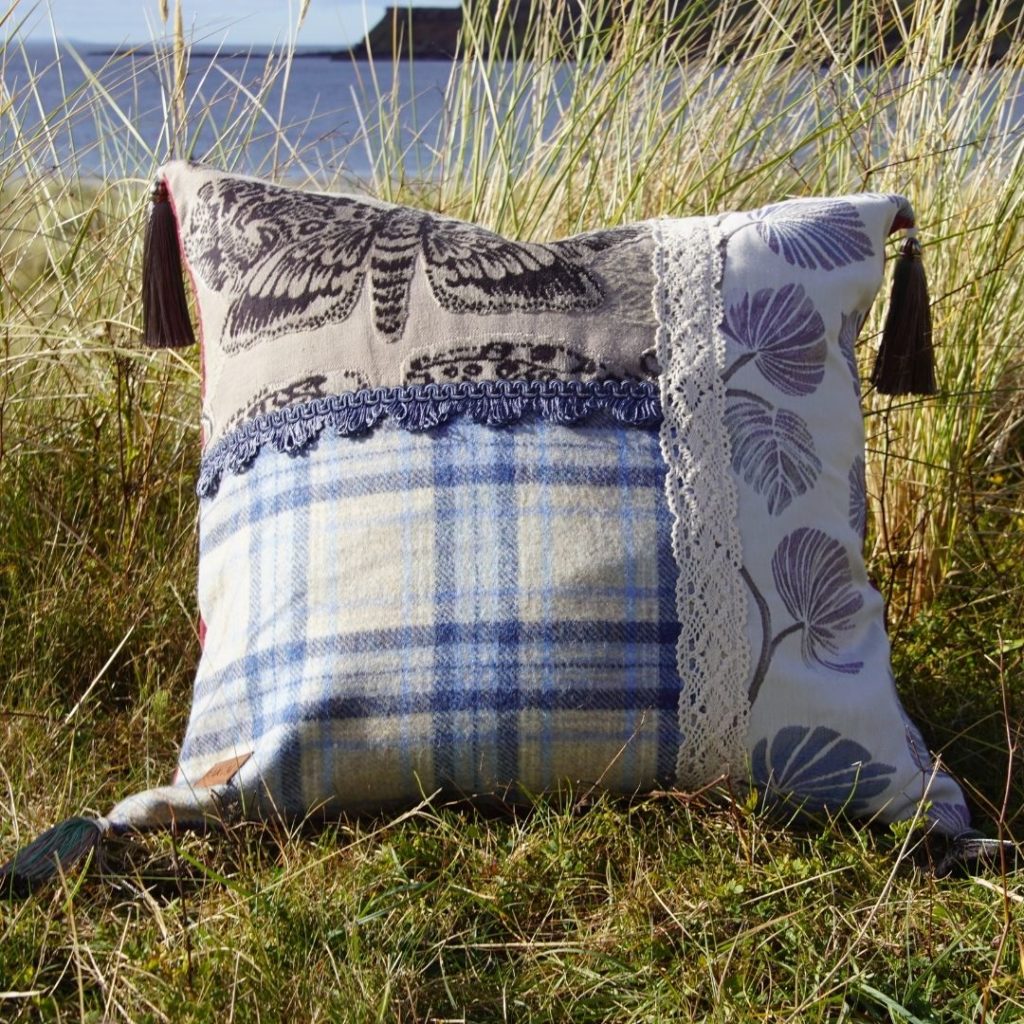 1. Provenance – All Baigali Designs products are designed and handmade in Edinburgh. All my products are labelled with the Baigali Designs Logo to guarantee a stamp of quality. All fabric used in my products can be traced to the original manufacturer, fabric/design house, weaver or woollen mill.
2. A Mark of Quality – You may pay a little more for my cushions and throws but the fabrics I use will last the test of time. Some of my customers say they improve with age. You can feel the quality of the fabric when you touch my cushions and throws.
3. Colour – You can see the colours of Scotland's beautiful landscapes in my designs from the rocky Cuillen range of mountains on the Isle of Skye and Rum to the three Eildon hills near Melrose in the Scottish borders where I grew up.
4. Natural and Environmentally Sustainable – I include 100% pure soft British wool in all my designs. This material is warm in winter and cool in summer. It is water repellent, long lasting, fire resistant, cleans easily, stain resistant and is hypoallergenic. Each year sheep grow a new fleece, making wool a renewable and sustainable resource. My studio in Edinburgh is powered by solar panels and a Tesla battery. My packaging is also biodegradable.
5. A Proud Scottish Brand – I will continue to remain loyal to Scottish suppliers and source  my fabrics from Scottish weavers and Scottish mills. My craft fairs, marketing, web design and packaging are all supplied by Scottish companies.