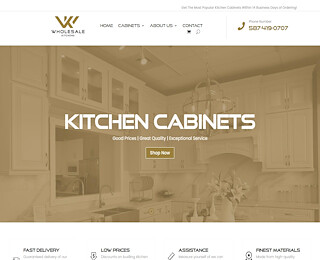 Kitchen cabinets are usually one of the chief focal points of a kitchen space, making them essential elements in a kitchen design. There are several array of kitchen cabinets for sale on the market, which can make it quite difficult to select a particular product. You want to make the right choice for your kitchen and not purchase a cabinet that doesn't enhance the lot of your kitchen space and is less then functional. Below are some tips that can help you make an informed decision when choosing right cabinet styles for your kitchen.
Consider the Kitchen Style
When it comes to kitchen style, transitional, traditional, and modern style are the most common ones, but within these categories, there are several different subtypes. You want to select complementary cabinets that matches your kitchen style. It should also match your kitchen color space. You may also want to think about the doors complementing the kitchen's interior. The kitchen layout is also a factor you want to consider in the process.
Select the Right Material
There are a wide range of material used to making kitchen cabinets. You can choose from wood, melamine, stainless steel, thermo foil, or metal. Solid wood is still the most common choice for kitchen cabinet for the people looking for high-quality material.
Strive for Functionality and Aesthetics
While you want your kitchen cabinets to look good, it should also offer the desire benefits. As such, functionality and aesthetics are important components of kitchen cabinet selection. The best kitchen cabinet will improve the look and feel of your space and offer functional value, no matter the size of your kitchen. Aesthetics is about design, color and finish. You want your kitchen items to perfectly fit into your cabinets to prevent clutter.
Choose kitchen cabinet color 
The color story of your kitchen's cabinet must be unified, even if it's a simple one. This is basically your kitchen's color palette and how they merge to make the space feel comfortable, warm, stylish, and spacious. Nobody wants a kitchen that is boring and lacks dimension. If you are working with an interior designer, you may want to talk to them about it, especially if they have a color palette in mind.
Think About the Finish
This is another important element of a kitchen's aesthetic. Your cabinet finish can make your kitchen pop or fade, depending on the kitchen cabinet design you are going for. Your finish can make a significant different in how the cabinet translate within the context of your space. Also, keep in mind that some cabinet finishes such as gloss clean' easily. If you tend to make a mess often, traditional wooden cabinets may be hard to clean, which could increase the chance of bug infestations.
Buy Kitchen Cabinets from Wholesale Kitchens
We have been in the business of kitchen cupboards for sale for many years. When you visit our store, we'll not only show you all the high-quality cabinet options, but also provide you with top kitchen trends and offer guidance. We'll also offer the most functional solution for your kitchen remodeling project. Shop for the right kitchen cabinets for you today.